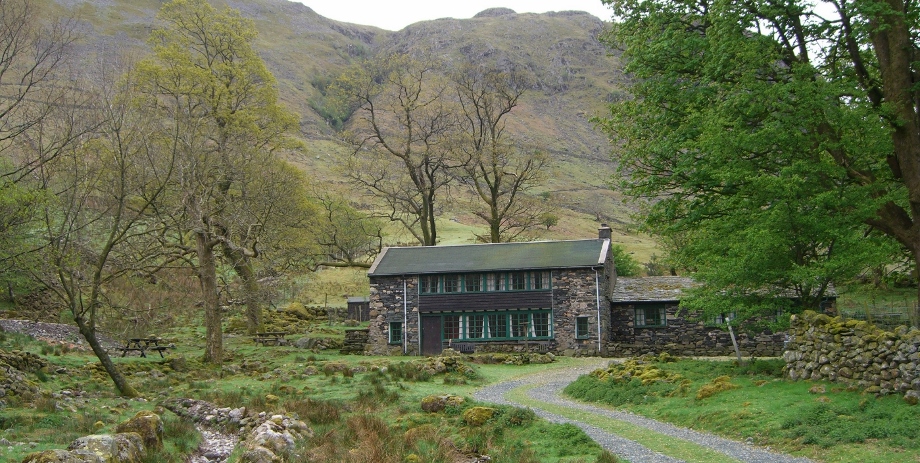 High House - Seathwaite, Borrowdale
High House is a restored and converted 16th/17th century farmhouse in its own grounds, situated near the hamlet of Seathwaite in Borrowdale, in the English Lake District, OS Grid Reference NY235119 - see map. It offers a high standard of bunkhouse/hostel self catering accommodation, and is considered by many to be the best in the Lakes. As well as walking and climbing clubs, High House is regularly used by outdoor educational groups, and corporate groups for seminar use.
Its superb location is one of the many reasons that visiting groups often refer to is as their favourite bunkhouse. Being just off the track to Sty Head and Grains Ghyll, the central fells such as Scafell, Great End, and Great Gable can be ascended without the need to drive the car.
The view below was taken from Base Brown looking down Borrowdale towards Rosthwaite in the distance, with Seathwaite in the foreground and High House in the the centre in the group of trees which nestle under the slopes of Glaramara. The track to Great Gable and the Scafell range via either Sty Head or Esk Hause can be seen leading off to the right, with the Helvellyn range in the far distance.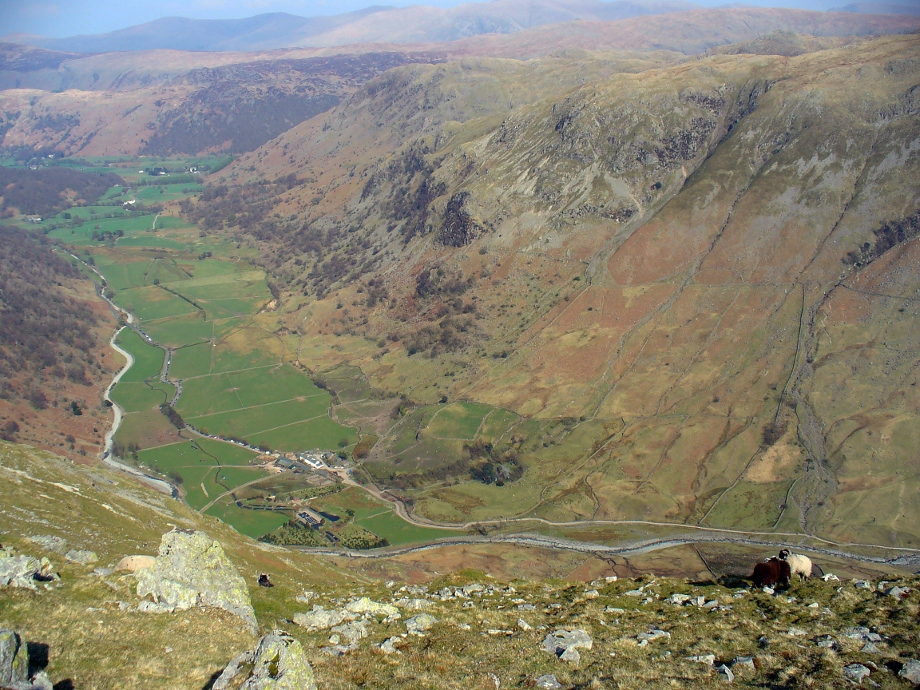 PLANNING YOUR VISIT:
Although we provide plenty of facilities (see Accommodation), you will need to provide the following :-
Sleeping bags or duvets
Pillows
Tea towels
Firelighters
Matches
First aid kit - there is none at High House
Food. Buying food and drink in the valley will help the local economy. Basics such as milk are available from the cafe in Rosthwaite, and there is a large Booths supermarket in Keswick.
There is no phone at High House, and poor mobile reception. There is however a land line at Seathwaite.
Booking High House gives you the use of the premises, without other clubs sharing with you. However, there may be occasions when club members use the members room.
Washing up liquid is provided. Please use this and no other to ensure proper functioning of the septic tank.
Visitors to High House may bring dogs with them. but please note that they are only allowed in the common room, and they must sleep outside the building.
Due to the terms of our lease with the National Trust, we regret that camping is not allowed at High House.
Due to problems in the past, we request that you do not use candles, or fry chips, during your stay.
If another group has booked the previous night, please arrange to arrive around tea time, and likewise leave by tea time on the day of your departure.
K Fellfarers accepts no responsibility for personal possessions left in High House. The club has no insurance to cover loss by theft so please take appropriate precautions to ensure that your belongings are safe when you visit.
BOOKING DETAILS:
The cost per night of High House is £150 for 2017 and £155 for 2018, (subject to a review each December), irrespective of numbers, and includes electricity for cooking, water heating, and lighting; gas for cooking; and solid fuel for heating.
The cost per night for mid-week bookings is open to negotiation depending on the number of mid-weeks booked.
If booking a Friday and Saturday, or Monday and Tuesday nights, the Sunday night may be booked for an additional £75 during 2017 and £80 during 2018 (subject to a review each December). Other adjacent nights, if available, can be negotiated.
The Minimum booking at weekends is for 2 nights. For mid-week bookings, single nights are possible.
A firm booking will be made on receipt of a £40 per night deposit (£80 for a weekend), non-returnable on cancellation unless the dates become re-booked.
The balance is payable 2 weeks prior to occupation. Cheques payable to 'K Fellfarers' or use a bank transfer. We also require a cheque for £50 as a key deposit. The key safe code and feedback form will be despatched on receipt of both the balance and the key deposit cheques. The key deposit cheque will be destroyed if High House is left in a clean and tidy state, and the feedback form is returned safely to us.
High House
©2014 Wizard Wheeze Promotions