Evening Walk from Heversham
Irene writes - A perfect summer evenings amble around the fields from Heversham was enjoyed by seven of us led by Graham and Irene, and accompanied by Grahams sister Margaret, Frank, David, Roger and Margaret. The highlight was the wonderful view from Heversham Head and a well earned drink in the pub.
The shot below was taken by Irene on Heversham Head looking down the Kent estuary with Arnside Knott in the background centre left.
From the left: Graham, Roger, Frank, Margaret, Margaret A, David.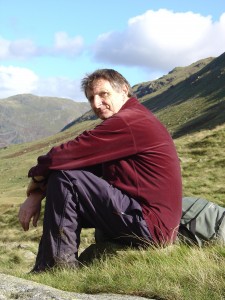 The club were sad to hear of the death from cancer of Peter Jackson, a member in the 80's and early 90's. A neighbour of Phil Blamire's until Phil's move to Scotland, Peter was a committee member in 1985 and worked as an accountant for Norweb. In 1997 having been made redundant, he walked from Lands End to John O'Groats, but being Peter made life even more difficult by taking in the three country tops of Snowdon, Scafell Pike, and Ben Nevis. He remembered the walk in the Clubs 75th commemorative book on page 203, and later wrote a book about the walk called Up The Country (its in the High House library somewhere)
On completing the walk, he co-founded the company Knobbly Sticks that ran guided and self guided walking holidays in Britain, Ireland, and France. On realising that many walkers wanted to organise their own walks but lacked information, he started an online site called Mywalkingguide.com. A strong walker, he had a wicked dry sense of humour, which came out in a humorous piece for the Fellfarer about political correctness on the fells
He leaves a wife Delia, a son Brendan, and daughter Kate.