K Fellfarers welcomes walkers, climbers, mountaineers, and anyone who loves the outdoors.
All standards are welcome .

Coming Up - see Social Calendar for more details
Jan 27 - Tues - Slideshow - Review of the Fellfarers' 80th Year 2014.
Jan 30 - Fri - AGM at the Ivy Leaf Club
Feb 13-18 - High House reserved for Fellfarers - Half Term
Feb 17 - Tues - Slideshow - 'Across the Sahara 2014'
Feb 21 - Appetite Enhance Walk followed by the Annual Dinner
Feb 25 - Wed - Mid-week Walk. Cartmel Fell.
Mar 7 - Sat - Saturday Walk. Ward Stones & Grey Crag
Mar 10 - Tues - Slideshow - 'A Himalayan Journey'



We have a few copies of our 75th commemorative book available. See
here for details
IMPORTANT. We had problems with the High House web site in July, and built a new one. The one that you link to from here is OK, but the old one at this address -
http://k-fellfarers.homecall.co.uk/ff.htm has been deleted. If you try to access it, your browser will return a '403 error'.
Please change your 'Favourites' accordingly
.
Hurrah, the K Fellfarers club is 80 years old this year. See below for the special challenges undertaken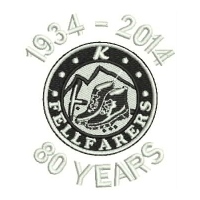 See Helen for access

News in brief -
January -
Issue 76 of the Fellfarer is now available on-line. More
A happy new year to all club members and friends.
Negotiations have just started with the NT on the renewal of the High House lease .

December -
The club are selling the two wash basins minus taps that used to be in the lladies wash room. Any reasonable offer accepted - Photos
The clubs 80th birthday party on November 29th was a great success. More
The following challenges involving the number 80 were undertaken to help celebrate the clubs 80th birthday, and the results including photos were all displayed at the party. A summary can be seen on the November Gallery page. Well done to all members!
80 New experiences - Ebbie and Paige
80 Kilometres and 80 poteaux - Sue and Liz
80 Wainwrights in a week - open challenge
80 New tops - Mick
80 Bird species in one day - Rose and Paul
80 Fishing in tarns rivers and lakes - Fred
80 Old Westmorland Churches - Kati and Gary
80 Islands - open challenge
80 Footbridges - Jan and others
80 Fungi - Helen
80 Paddles - Maragret and Ellie
80 Outdoor rock routes - open challenge
80 Miles on a cycle - Colin Hunter
80 Indoor routes on Kendal climbing wall - open challenge