K Fellfarers welcomes walkers, climbers, mountaineers, and anyone who loves the outdoors.
All standards are welcome .

Coming Up - see Social Calendar for more details and the outline program for 2014
Apl 18-22 - High House reserved for Fellfarers - Easter
Apl 24 - Climbing for all - 1st outdoor meet. Warton Upper Crag
Apl 24 - Evening walk - Warton Crag
Apl 30 - Mid-week Walk - Birkwith and Alum Pot
May 2-5 - High House reserved for Fellfarers - May Day bank holiday
May 6 - Evening walk - A Whitbarrow Wander
May 21-22 - Mid-week walk and overnight stay in Skiddaw House
May 23-June 2 - High House reserved for Fellfarers - Spring bank holiday
Lost and Found - Don't forget to check out this facility to buy, sell, and swap clothes and other items, and also items 'lost and found' at High House.





News in brief
April -
- Hurrah, the island count has now topped 34.
- The number of tops booked is now 14: book yours now!
March -
- Borrowdale Road has now re-opened.
- The core week for the Europe camping week is June 12-19
February -
- Borrowdale Road works and access to High House. More
- Photographer Chiz Dakin using High House. More
January -
- One chalet has been booked for Glencoe in 2015.
- The outline social program for 2014 is now available. More
- The committee welcomes Laura Walsh onto the committee following the AGM. Alec is now the Secretary and Clare the Social Secretary. More








We have a few copies of our 75th commemorative book available. See here for details
IMPORTANT. We had problems with the High House web site in July, and built a new one. The one that you link to from here is OK, but the old one at this address -
http://k-fellfarers.homecall.co.uk/ff.htm has been deleted. If you try to access it, your browser will return a '403 error'.
Please change your 'Favourites' accordingly
.
Hurrah, the K Fellfarers club is 80 years old this year. We have lots of special events throughout the year - see the Social Calendar. Special Club Challenges -
- 80 Islands Challenge. Current count = 34 Here for the count list and here for the photos.
- 80 Tops Challenge. Here for progress. Tops booked to date = 14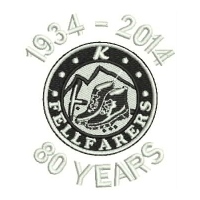 See Helen for access