K Fellfarers welcomes walkers, climbers, mountaineers, and anyone who loves the outdoors.
All standards are welcome .

Coming Up - see Social Calendar for more details and the outline program for 2014
Aug 1 - 31 - High House reserved for Fellfarers - summer holidays
Sept 14 - Sunday walk - Nine Standards Rigg
Sept 15-19 - Summer Wine Team working party at High House
Sept 19-21 - Working Weekend at High House
Sept 24 - Mid-week Walk - Backbarrow to Latterbarrow
Sept 27 - Sat - Saturday walk - Shore Walk from Bare
Oct 24 - Tues - 80's Quiz Night at the Strickland Arms
Lost and Found - Don't forget to check out this facility to buy, sell, and swap clothes and other items, and also items 'lost and found' at High House.





News in brief
September -
- The Shinscarpers have now clocked up 120 climbs, leaving their target of 80 well behind. More
August -
- The builders have completed their work at High House, but there still remains some 'finishing off' to do, so be prepared for some mess over the bank holiday weekend!
July -
- Well done the Shinscrapers for completing their 80 climbs.
- Members are blitzing their way through the islands: count now 73!
June -
- Irene and Graham visited Shetland and moved the Island count up to 50. Only 30 more to go! Now only 21 to go after Hughie, Liam, and Luke's blitz on Windermere
- Well done the club for completing the 80 tops challenge with 12 to spare. Final list here
- Well done Sue Blamire et al for collecting their 80's. More
May -
- Well done Tina and Kevin in completing all the Wainwrights
- The Shinscrapers are doing well on their 80 Climbs Challenge, and have made the halfway mark. More
- Well done Rose and Paul East on completing their 80 Bird Challenge. See list here
- Well done Mick Fox on reaching the halfway mark of 40 out of his target of 80 new tops this year
April -
- Good luck to Mel Middleton in his aim to reach Everest North Col

We have a few copies of our 75th commemorative book available. See
here for details
IMPORTANT. We had problems with the High House web site in July, and built a new one. The one that you link to from here is OK, but the old one at this address -
http://k-fellfarers.homecall.co.uk/ff.htm has been deleted. If you try to access it, your browser will return a '403 error'.
Please change your 'Favourites' accordingly
.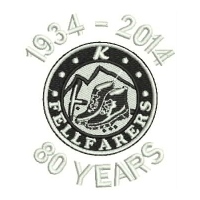 See Helen for access

80 Islands Challenge. Current count = 79
Here for the progress list and here for the photos.
80 Climbs Challenge. Current count = 120
Here for the progress list
80 Footbridges Challenge. Current count = 40
Here for the progress count
80 Tops Challenge. Completed tops = 92
Here for the final list list.

Club Challenge Progress -