K Fellfarers welcomes walkers, climbers, mountaineers, and anyone who loves the outdoors.
All standards are welcome .

Coming Up - see Social Calendar for more details
Mar 22 - 27 - Scottish Hotel Meet in Fort William
Apl 3- 6 - High House is reserved for Fellfarers - Easter Bank Holiday
Apl 11 - Saturday Walk - Mardale Meander.
Apl 23 - Thurs - Climbing for all starts outdoors - Warton Upper
Apl 23 - Thurs - Evening walk - The Pepperpot
Apl 29 - Wed - Mid-week Walk based on High House - High Spy and High Scawdel
May 1 - 4 - High House is reserved for Fellfarers - May Day Bank Holiday
May 5 - Tues - Evening Walk - The environs of Sizergh


We have a few copies of our 75th commemorative book available. See
here for details
IMPORTANT. We had problems with the High House web site in July, and built a new one. The one that you link to from here is OK, but the old one at this address -
http://k-fellfarers.homecall.co.uk/ff.htm has been deleted. If you try to access it, your browser will return a '403 error'.
Please change your 'Favourites' accordingly
.
Hurrah, the K Fellfarers club was 80 years old in 2014. See here for the special challenges undertaken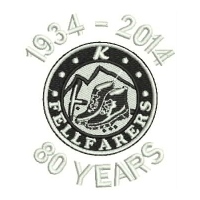 See Helen for access

News in brief -
March -
The Summer Wine Week and Working Weekend was a great success. Thanks to all who helped. More
Welcome to our new members David & Jane Robinson of Kendal, Claire Heseltine of Richmond, and Jan Sjorup of Kendal.
The April issue of the Fellfarer is now available on-line. More
Negotiations with the NT on the renewal of the High House lease are progressing well with no problems. We expect a draft lease shortly.

February -
Welcome to two new members on the club committee - Maja While and Vicky Weeks